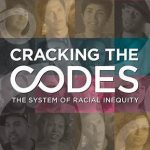 Sisters and Associates viewed the film "Cracking the Codes: The System of Racial Inequity" a documentary on racism on Saturday, October 26, 2019 at the Clarence Residence. The Justice, Peace, Integrity of Creation (JPIC) Committee sponsored the viewing, which included opportunities for reflection and dialog.
CELEBRATING INDEPENDENCE DAY WITH PEACE POLE
"Today we celebrate DIVERSITY—the gift of our country. Diversity—all of us—is what makes our country great." Sisters of St. Joseph Associate Audrey Mang's welcome set the tone for the July 4 dedication of a Peace Pole at the Sisters property, 4975 Strickler Road, Clarence.
Sally Tower, Associate, led the 125 Sisters, Associates and guests in blessing the 4-sided pole with "May Peace Prevail on Earth" written in Seneca, French, Spanish, English, Burmese, Arabic, Nepali and Swahili. A native speaker of each language proclaimed the important message. It is also present on the pole in Braille and Sign Language (Finger Spelling).
Vivian Waltz, Executive Director of the SSJ Sister Karen Klimczak Center for Nonviolence, related Sister Karen's legacy of respect for all people to the importance of diversity, foundational in every faith and given to make a unified whole. "We need every language to hear the richness of God's word to us. We need all nations; there can be no outsiders. Everyone in the world must be included in order for Peace to Prevail on Earth."
Following a short reflection by Sister Judith Justinger, the group enjoyed an Independence Day picnic.
As the Justice, Peace and Integrity of Creation Committee, planners and coordinators of the event pointed out, the new Peace Pole carries on a long tradition. Begun in Japan as a grassroots community project in 1975, it has spread around the world. Western New York has a number of these messengers of peace.
(Below: Peace Pole in Signing, Seneca & Nepali, French & Swahili, English & Arabic, and Burmese & Spanish)
Below: Fr. Sadjak and Families from St. Martin de Porres Church (l) and Language Speakers (r)
IN CONTINUED SUPPORT
We are part of a World Wide Federation and we are personally affected by the terrorism both Domestic and Worldwide . Please follow the link provided to share in what some of our Sisters are experiencing in France. http://sistersofsaintjosephfederation.org/
The Sisters of St. Joseph enjoy meeting supporters, friends, former students and their families at special events each year.
Mount St. Joseph Alumnae Luncheon
Graduates of Mount St. Joseph Academy gather for Mass, lunch, a basket auction, and camaraderie on Saturday afternoon each October. The event benefits the Sisters.
Oktoberfest
Oktoberfest is a fun tradition held in the fall at St. Aloysius Gonzaga Church, 157 Cleveland Dr. Cheektowaga, NY. German food, beverages, song and dance are featured.
Although both well loved traditions, at this time the St. Joseph Table and Tennis Tournament are no longer being held. We can not begin to express how thankful we are for everyone who supported those projects throughout the years.